An Interesting Fox Island Story – The 1935 Tacoma Daffodil Parade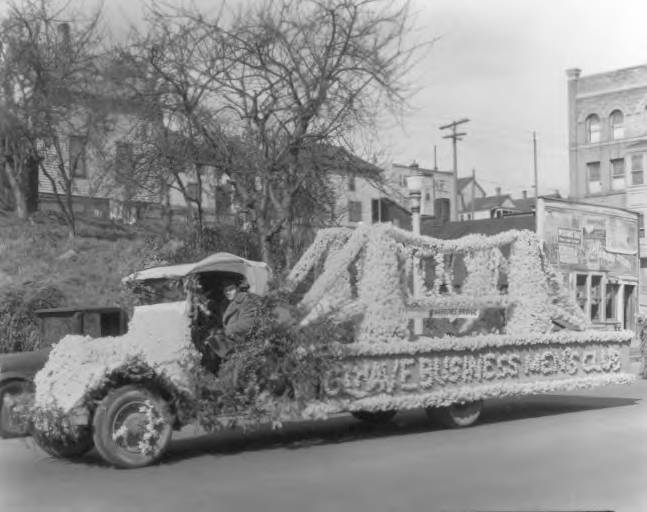 ---
The 6th Avenue Business Men's Club entry in the 1935 Daffodil Parade and the winner of the $25 Sweepstakes prize for best float. The float features a flora replica of the Narrows Bridge. Disaster was narrowly averted the night before the parade when decorators ran out of flowers at midnight with the float unfinished. A delegation of volunteers journeyed out to pick 3,000 daffodils by moonlight at the Fox Island fields of Arthur Wight. The float was finished and declared the best of the fifty entered floats. It has over 18,000 blooms.
Arthur Wight had large fields of daffodils along Kamus Drive. The strain planted was Pacific Spur, a little smaller than the King Alfred, and, therefore, earlier. His blossoms would appear on the market earlier than those grown in the Puyallup Valley and bring higher prices. Each year the bulbs were dug and hauled to town, by Gene Nelson, for fumigation.
The Wight's also grew gladiolus for the flowers and the bulbs. Daffodil and gladiolus bulbs were stored in the old "Longhouse" before replanting. Chauncy Wight used to load his canoe with flowers and paddle around the island to Sylvan where flowers were forwarded to Tacoma to be sold.
The Longhouse at the west end of Kamus was a long rambling affair with a kitchen and living room at the north end and a long front porch. When the Longhouse changed ownership from the Arthur Wight family to the Connie property, it was used by the "ladies of the evening" as a site for rest and relaxation. It was this use which always brings a knowing smile when it is mentioned today.
---
Zogs at the Fox Island Store
The Museum has several photos displayed at Zog's, located behind the Fox Island Store. One display is about the submarine that went aground on Fox Island in 1988. Check it out!