---
The Fox Island Museum and the Book Nook will be closed on Labor Day Weekend, September 3rd & 4th, 2022.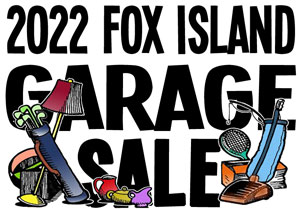 It's time for the 2022 Fox Island Garage Sale!
…to be held Saturday, September 10, 9am-3pm at the Fox Island Museum, 1017 9th Avenue, Fox Island and various Home Sites throughout Fox Island.
Interested in Applying for a Spot as a Seller?
Please go here for an online Application Form and Payment ($25 at museum, $10 at home site) and general instructions. Please note, there are a limited number of museum spaces and the online application form will not provide this option when they are filled. Application deadline is September 3, 2022 for online applications and you will receive a confirmation.
If you choose not to apply and pay online, we are accepting walk-ins at the Museum on Saturdays and Sundays, 1-4 pm, August 20-21 and August 27-28. We will have copies of application forms and be able to accept payment then. Mailed applications and checks must be received by September 3 and addressed to Fox Island Garage Sale, Box 242, Fox Island WA 98333. If you request a Museum Site and there are no spaces available when we receive your form, your application and check will be returned. Please be sure to complete the phone number on your application in order to receive a confirmation.
Interested in Going to the Garage Sale at the Museum and/or Home Sites?
We will post a map online of the various home site locations here on Saturday morning, September 10 by 8am. Maps will be available at the Museum on Saturday, September 10. We will also be selling our delicious hot dogs at the Museum on September 10 from 11am to 2pm.
---
Saturday, August 13, 11am-4pm
Nichols Community Center
690 9th Avenue, Fox Island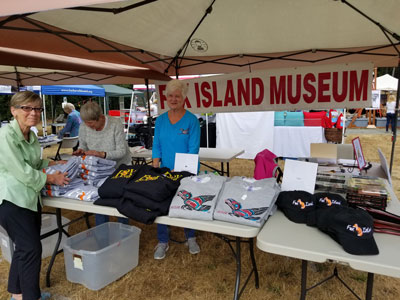 We'll have "Fox Island" Clothing, Books on the History of Fox Island along with Memberships to the Fox Island Museum, and Applications for the Fox Island Garage Sale to be held on September 10, 9am-3pm at the Museum and home sites.
Can't wait to see you at this annual fun event!
---